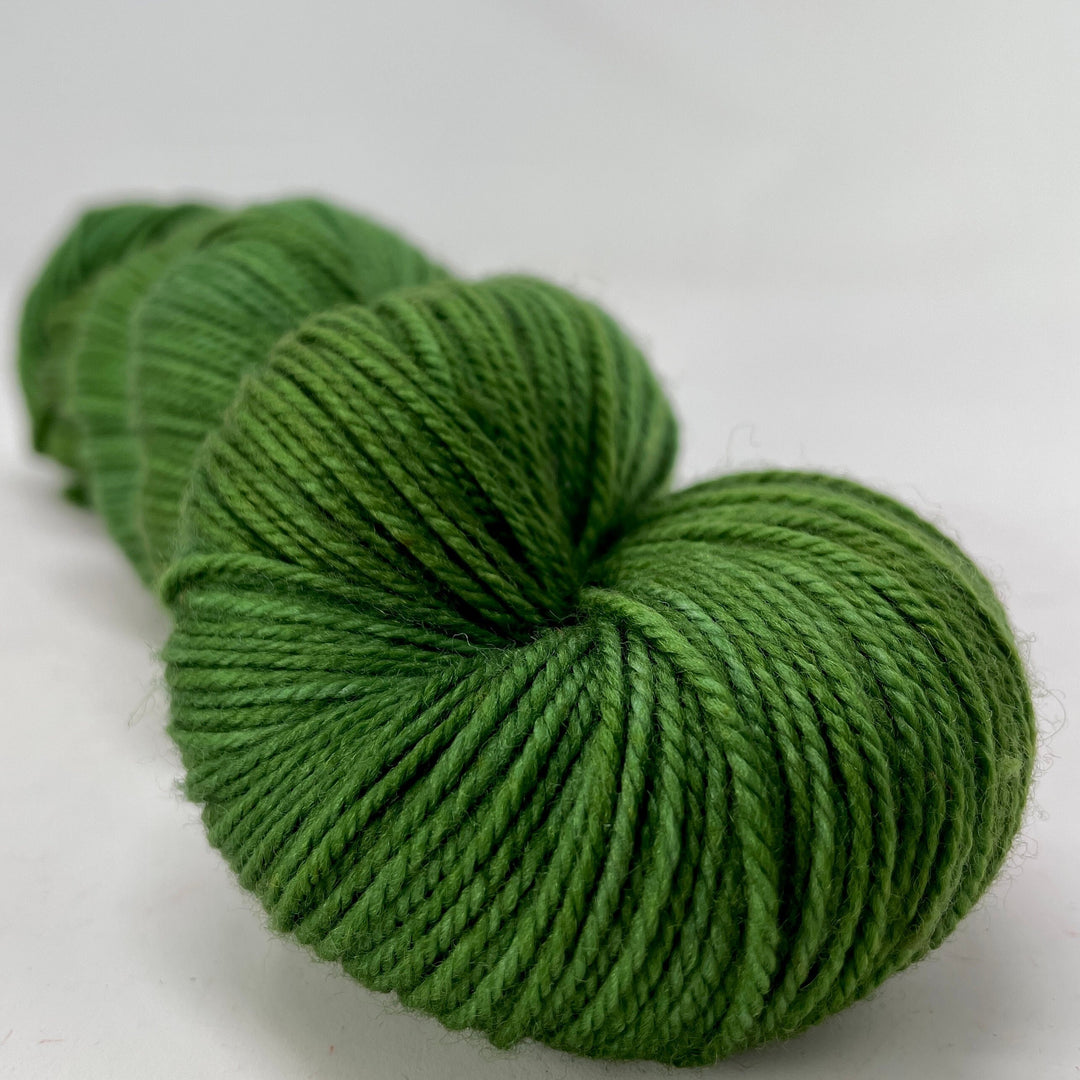 Mighty Oak - Hand dyed yarn - Mohair - Fingering - Sock - DK - Sport -Boucle - Worsted - Bulky -
---
Love color? You are in the right spot! We're passionate about the colors we dye and the yarn bases we use!
Yarn bases currently available are listed below, for a more in depth description please keep reading.
Single Fingering: 100% super wash merino. 430 yards, 4 oz (fingering weight)
Non-Super Wash Merino: 100% merino. 420 yards, 4 oz (fingering weight)
Sock: 80% superwash merino 20% nylon. 420 yards, 4 oz (fingering weight)
Sport: 100% superwash merino, 325 yards. 4 oz (sport weight)
DK: 100% superwash merino. 280 yards. 4 oz (dk weight)
Worsted: 100% superwash merino. 200 yards, 4 oz (worsted weight)
Aran: 100% superwash merino. 180 yards, 100 grams (aran weight)
Bulky: 100% superwash merino. 130 yards, 4 oz (bulky weight)
Fairy Floss: 72% Kid Mohair, 28% Silk. 459 yards, 50 grams (lace weight)
Shimmer Fingering: 85% merino, 15% silk. 550 yards, 4 oz (light fingering)
Pixie Plied: 92% super wash merino, 8% lurex. 400 yards, 4 oz (fingering weight)
Summer Slubbin': 90% super wash merino, 10% nylon. 438 yards, 100 grams (fingering weight)
Giddy Up: 90% superwash Targhee, 10% nylon. 465 yards, 4oz (fingering weight)
Polwarth Shimmer DK: 85% Polwarth wool, 15% silk. 330 yards, 4 oz (DK weight)
Puppet: 100% superwash merino. 240 yards, 100 grams (DK weight)
Small Cotton Candy: 100% merino. 65 yards, 4 oz (super bulky weight)
Cotton Candy: 100% merino. 140 yards, 250 grams (super bulky weight)
YOUR ORDER
When your order ships you'll receive a notification that your order is on its way, with a tracking number. Skeins may vary from dye batch to dye batch, as is typical with handmade goods. We do our best to have a consistent dye lot when ordering more than one skein at a time.
YARN CARE
We use professional-grade acid dyes in a pet-free, smoke-free studio. All yarn is rinsed in cold water until the water runs clear, but it is possible that some residual dye will remain on the skein. We recommend hand washing and laying flat to dry. While super wash yarn can be machine washed and dried, your creation will last longer with gentle care.
Single Fingering
Shimmering silken single sexiness. This is a single-ply, superwash merino wool that looks and feels oh, so good. The single ply nature of the yarn means that it shines, and it's great for accessories, particularly shawls and cowls.
Non-Super Wash Fingering
Four tight plies of spring-loaded merino, perfect for garments and highlighting textures, color work, lace, or cables.
Sock
If you're looking for sock-knitting nirvana, you've found it in this sheep-to-skein US-produced sock yarn. With a tight twist, and just the right amount of nylon, you'll find that your socks practically knit themselves, and our inspiring sprinkle colors mean you won't be content with just one skein. Or three. Or seventeen.
Sport
Sport is a 3-ply dream of a super wash merino, equally delicious in garments and accessories.
DK
A round, squishy, bouncy, soft, and very hearty yarn, Victory DK is produced sheep-to-skein in the US. It's superwash, so it's perfect for baby garments and boot socks, and it's fabulous, so it's perfect for adult sweaters and accessories.
Worsted
Soft. Shiny. Bouncy. This is the worsted you've been looking for. Ideal for accessories, a dream for garments, and it's superwash, to boot.
Aran
This is our superwash Worsted's big sister. She's got the same shimmer and shine, the same softness and bounce, but is an even quicker knit.
Bulky
The perfect quick-knit accessory yarn, with a great drape and soft hand.
Fairy Floss
Magical, airy, and oh, so fluffy, Fairy Floss is our new favorite thing. A lace-weight silk and mohair blend, this yarn takes our colors like a magical dream.
Shimmer Fingering
The silk adds another level of awesome to this two-ply fingering weight dream. Great for shawls and cowls, this yarn begs to be worn close to the skin.
Pixie Plied
This is the yarn fairies would use, if they were the knitting types (and if they could find knitting needles small enough for their wee hands). A lovely, smooth, plump 4-ply combined with a strand of shiny shimmery specialness makes this THE yarn to use for your most magical creations.
Summer Slubbin'
This slub. yarn is so much fun! Use it in simple projects or weaving and watch it shine.
Giddy Up
This tightly-plied super wash Targhee is the perfect mix of soft and rustic. Great for garments and accessories.
Polwarth Shimmer
What do you get when you cross a soft and sturdy wool with a bit of silk? This perfect-for-everything yarn that can hold up to lots of wear. Make your next sweater or accessory out of this yarn, and you will not be sorry.
Puppet
Snuggle up with this soft and squishy boucle, just the thing for next-to-the-skin accessories, or even a luxurious blanket.
Cotton Candy
This super-bulky yarn is so tasty, we know you'll be tempted to take a nibble (but please don't!) It's pretty much the next best thing to wearing a cloud - soft and light and oh, so snuggly.
Yarn is dyed to order, so shipping is about 2-3 weeks. If you order non-yarn items with yarn, expect everything to ship together.
For in-store pickup, please allow 2-3 weeks as well.