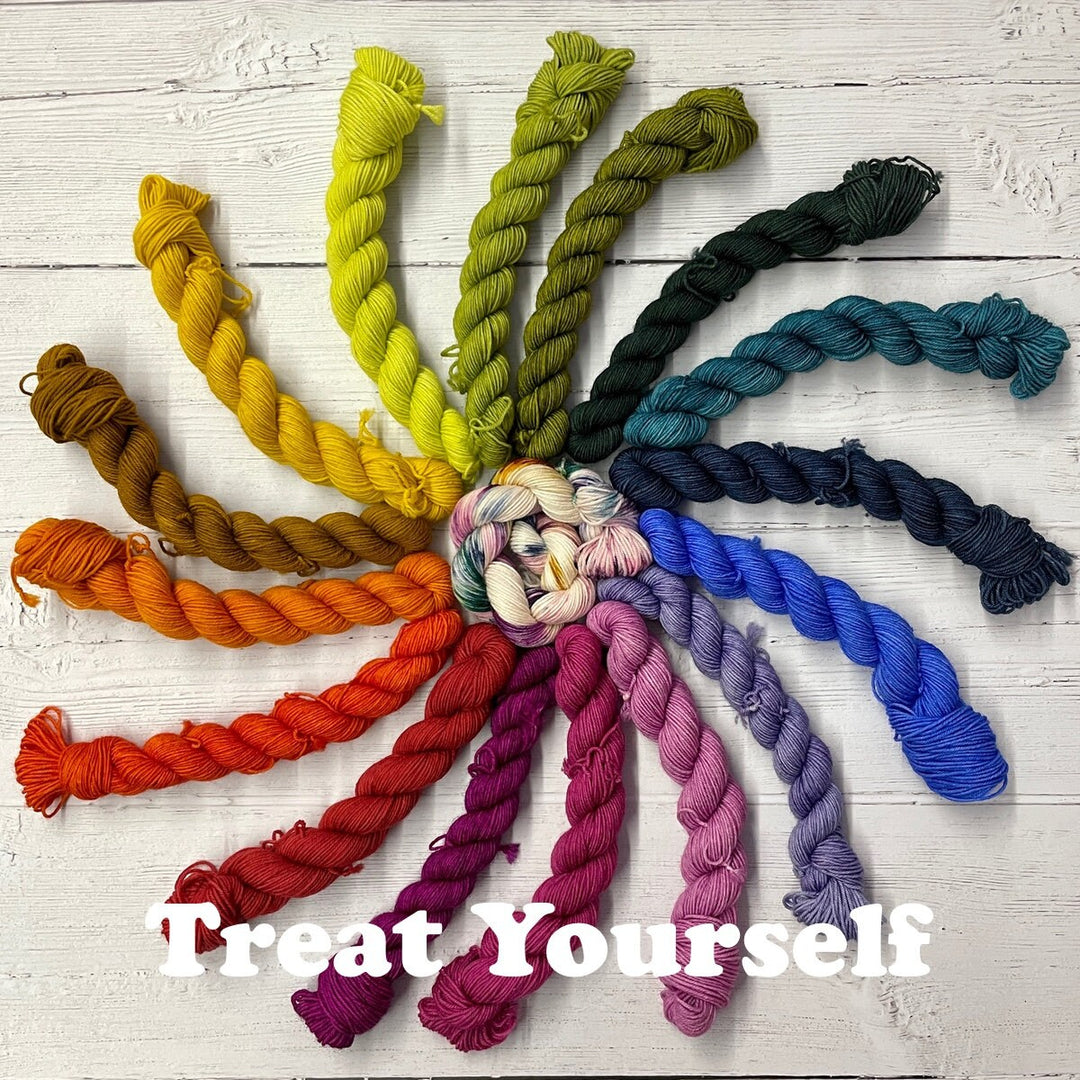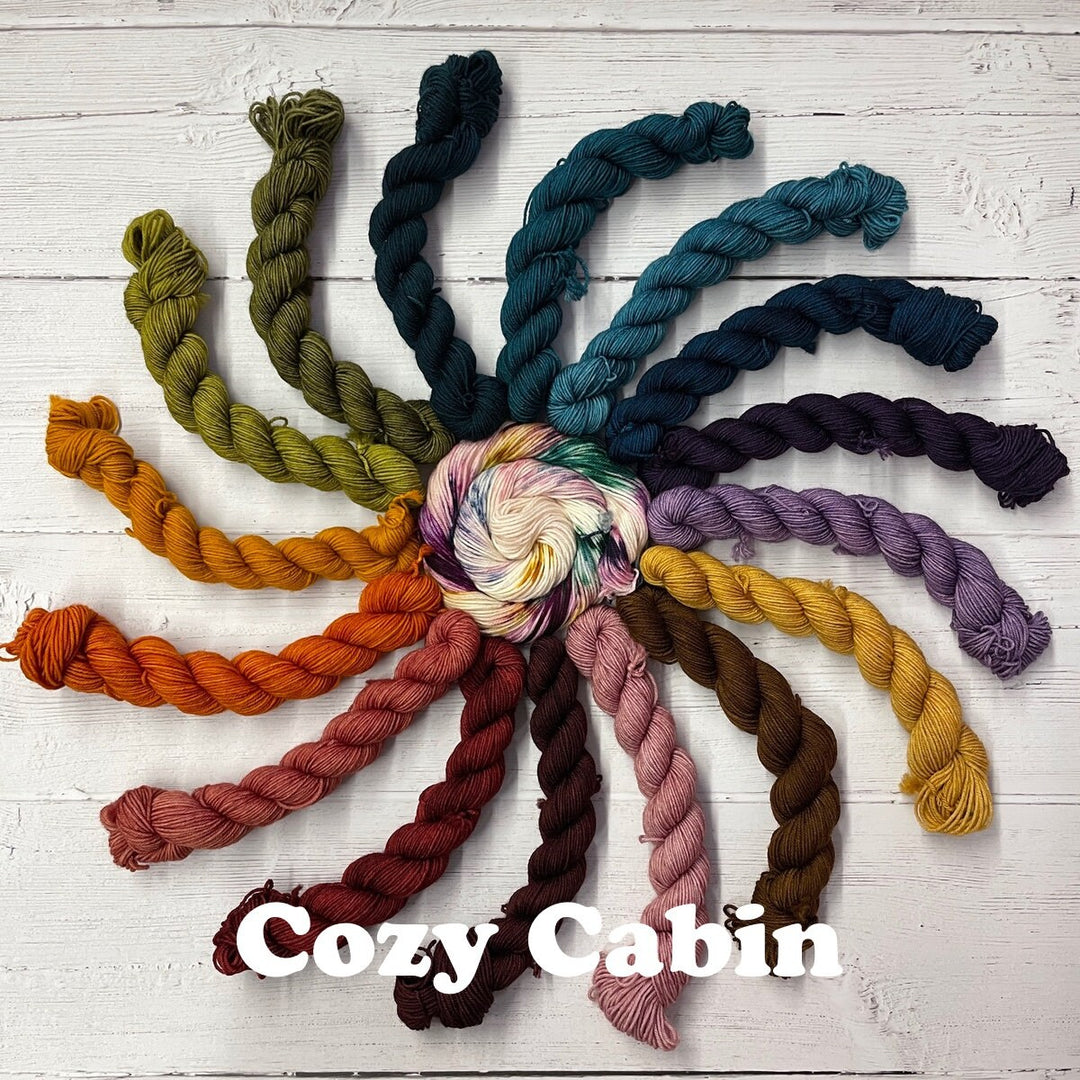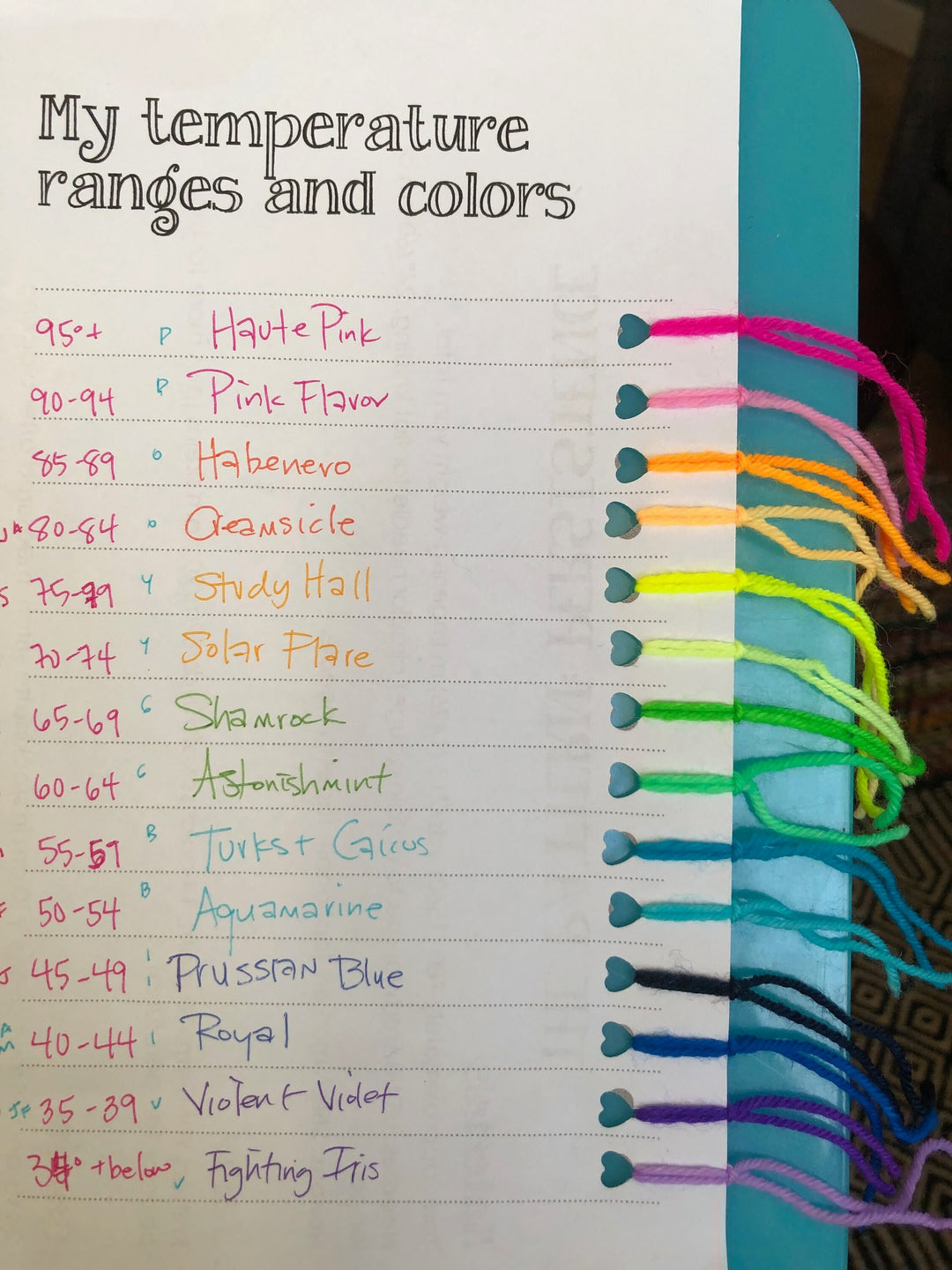 2023 Temperature Project Starter Kit
---
Low stock - 10 items left

Inventory on the way
THIS IS A PREORDER! iWelcome to our 3rd year of the ShannaJean Temperature Project! Our prices are going up for 2023, but we are giving y'all 2022 pricing on this kit.
You know we at ShannaJean love bite-sized projects and building community, and having an ongoing project to mark time is the icing on the cake! For 2023, we've created 2 new rainbows, Treat Yourself (brighter) and Cozy Cabin (moodier). Kits are 17 total skeins, which includes 16 solid colors in each rainbow plus a specially-designed variegated one for month markers. You can also use this for the beginning and end sections of your piece, but keep in mind that you'll need an extra mini skein if you are making the wrap and choose this route.
Included in your purchase:
**seventeen 20-gram Gems Fingering mini skeins in either our Treat Yourself or Cozy Cabin palettes; 
**printed drawstring project bag;
**a printable guide, which includes a color-in thermometer and a monthly chart to track temperatures and colors used, as well as Shannon's Persistence pattern in 2 different widths (scarf and wrap);
Folks who purchase the kit will have the opportunity to purchase individual skeins of the colors that represent their most-experienced temperatures. 
We also have Temperature Project colorway organizers from A Needle Runs Through It; check out the listing on our site!
THE YARN
We are using sets of seventeen 90 yard/82m mini skeins for this project. The yarn is Knitted Wit Gems 20g (75% superwash merino / 25% nylon), and each mini skein is 20 grams. We are offering 2 different rainbow color palettes: Treat Yourself and Cozy Cabin. Refills of individual colors will be available in both the Gem 20g and Gem 100g skeins, so if you think you'll need lots of any specific color, you can order a full skein.
THE PATTERN
We are using Shannon's Persistence pattern as our base. It's a really fun 2-row chevron pattern, with loads of customization potential. We are providing 2 different stitch counts (for a scarf and a wrap), but you can choose to make it really any width you want, with notes included for customization.
YOUR ORDER
When your order ships you'll receive a notification that your order is on its way, with a tracking number. Skeins may vary from dye batch to dye batch, as is typical with handmade goods. We do our best to have a consistent dye lot when ordering more than one skein at a time.
YARN CARE
We use professional-grade acid dyes in a smoke-free studio. All yarn is rinsed in cold water until the water runs clear, but it is possible that some residual dye will remain on the skein. We recommend hand washing and laying flat to dry. While super wash yarn can be machine washed and dried, your creation will last longer with gentle care.
We make every effort to ship as soon as possible after you place your order. We generally use USPS for shipping, and share tracking information.
In-store pickup is available, also. We send notices when your order is ready for in-store pickup.
If you order dyed-to-order yarn with any other products, order will ship/be ready to pick up when yarn is ready. We do not ship partial orders.